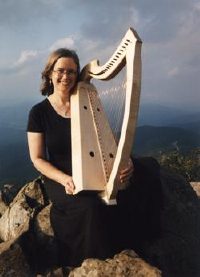 For more information contact Cynthia or explore her website using the links on this page.
Cynthia Cathcart is an award winning performer and instructor on the clarsach, the wire-strung harp of Ireland and the Highlands and Islands of Scotland.
The brilliant revival of this ancient instrument is in part due to the uniquely bell-like resonance of brass, silver and gold harp strings, producing a sound unlike any other harp.
Cynthia strives to bring the joy of making music on these precious strings to anyone who is drawn to their sound. She offers private lessons in her studio near Washington DC, and also attends various events throughout the year to give workshops, presentations and concerts.
As well as helping students, Cynthia's books, articles and recordings will delight lovers of this strange, special music.